Our Location
---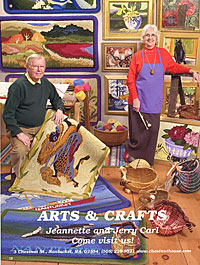 The original owners, Jeannette and Jerry Carl, had backgrounds in fine art and crafts. Consequently, the Chestnut House is full of examples of Nantucket inspired paintings, drawings, sculpture, and ceramics by Jeannette and originally designed and executed hooked-rugs by Jerry. Over the years, returning guests have asked for specific suites because they might favor the room with the iris or daffodil murals or the pairings of art and rugs.
Chestnut House is located in the town's core district. Within walking distance are many of the island's finest restaurants and shops. The nearby Whaling Museum offers a grand opportunity to learn about the early history of Nantucket. We are also close to shops where you can rent bicycles or mopeds for the day if you wish to venture out to the beaches or sites located out of town. If you are interested in tours of the island, you can find groups leaving right down the street at the Visitor's Center.
We are available by phone to answer questions that you might have about Nantucket or the Chestnut House. Being able to speak to guests is what we enjoy most. You can also visit our site to check on availability or to make online reservations.
Click on the image to see an enlargement.